Custom hand carved, hand made dollhouse miniatures
Welcome to Miracle Chicken Miniatures. Below are some examples of what I create in miniature. All items are hand carved or hand made and are one of a kind. I make dollhouse miniatures in many different scales. If you are having difficulty locating an item in miniature, contact me and I will make it from scratch to your specifications. Functioning where ever possible.
Note: due to the nature of custom made to order one of a kind art, there are no refunds or exchanges.
I am proud and honored to have been awarded Fellow status in the International Guild of Miniature Artisans.
Click on the picture above to see more pictures of my submission pieces.
~~~~~~~~~~~~~~~~~~~~~~~~~~~~~~~~~~~~~~~~~~~~~~~~~~~~~~~~~~~~~~~~~~~~~~~~~~~~~~~~~~~~~~~~~~~~~~
I carve animals from wood in many different scales. I can carve a particular animal from your photographs. Have "your pet" reside in your dollhouse! Every attention to detail.
I also create art for the dollhouse. Carvings from stone add an elegant touch to any room. Very realistic drawings and paintings, matted and framed from scratch also available. Have a photo custom drawn or painted.
While not a dollhouse miniature, I carve finely detailed toothpicks and match sticks. These are unique gifts and can be custom carved to your ideas/specifications/photos. As always, no two alike.
Hitty dolls carved from Ash wood. You can be on my mailing list to be informed when I carve a new doll, or you can commission your doll.
*****************************************************************************************************
Please visit my BLOG where I will be discussing miniatures and showing the steps to carving an animal or making a dollhouse miniature.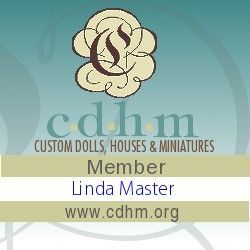 Click to visit my CDHM gallery; items for sale.

Click to visit my ETSY shop; items for sale.
Click to see my eBay listings.
copyright Miracle Chicken Miniatures all rights reserved

This Web Page Created with PageBreeze Free HTML Editor / Best Web Hosting