Links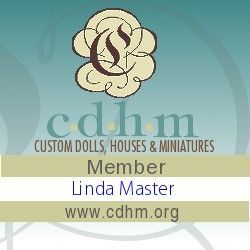 My CDHM gallery; items for sale

My ETSY shop; items for sale
My eBay listings
http://miraclechicken.blogspot.com/ My blog
********************************************************************************************************
Mini links:
AIM Artisans in miniature
Peter Tucker- modern miniatures: www.roomboxes.com and roomboxes.blogspot.com
Kiva's miniature food and other oddities... www.kivasminiatures.com
1:12 scale porcelain dolls. Faces sculptured by Viola Williams and each lady has "real" eyelashes.
Carol Kubrican True2Scale -Delightful, paper miniature kits and LED lighting
http://betsy-niederer-miniature-food-igma-fellow.com/shop/index.php?main_page=index
Helena Petite Fashions by Helena Bleeker www.helena-petitefashions.co.uk/
Miss Amelia's Miniatures Exclusive Miniature Millinery - Hats & Ladies' Accessories * Custom Dollhouse Furnishings
IGMA International Guild of Miniature Artisans
Karin Foster Specializing in custom, handcrafted one of a kind creations from a box of apricots to a prep board, a fully laden table to a roombox- orrlakemusings.blogspot.com and http://www.facebook.com/orrlakeminis
Cooltext.com ---logo and graphics generator
Wendy's Miniatures --Silk pillows, natural history,birthstones & curiosities in miniature
Lorraine Miniatures
Lorraine Miniatures is an online dollshouse miniatures store run by Lorraine Cooper. As well as making many of the items on sale herself she also sources items from other miniatures artisans. Many pieces are exclusive to Lorraine Miniatures and many are one of a kind. Lorraine is passionate about miniatures and insists on offering only the best quality pieces available.
This Web Page Created with PageBreeze Free HTML Editor / Best Web Hosting